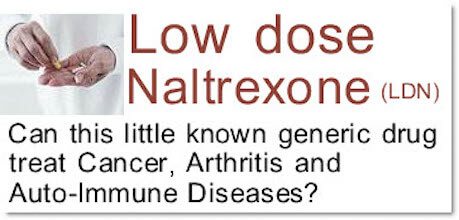 LOW DOSE NALTREXONE
I find Low Dose Naltrexone to be the best alternative medicine for my autoimmune disease.
"Alternative medicine" are two words that have been beneficial to me during my Sheehan's Syndrome journey. 
I have tried numerous types of alternative medicines and treatments.  
Low Dose Naltrexone (LDN)) is the most beneficial alternative medication I have tried.
Low Dose Naltrexone is not my, "Magic Pill".
My Low Dose Naltrexone experience: I swallowed a dosage of Low Dose Naltrexone before I went to sleep and the next morning I noticed an instant change in my energy level.
LOW DOSE NALTREXONE MAKES MY EVERYDAY LIFE BETTER 
Low Dose Naltrexone has given me a new, "normal baseline".
---
LOW DOSE NALTREXONE INFORMATION 
Naltrexone in the 50 mg form was FDA approved in 1984.
The medication Naltrexone helps Heroin Addicts and Alcoholics with their addictions.
Since the FDA approval of Naltrexone, medical experts and others have found that Low Dose Naltrexone benefits other chronic and serious health conditions.
LOW DOSE NALTREXONE BENEFITS
Patients have made the claim that Low Dose Naltrexone helps ease symptoms of:
Inflammation

Fibromyalgia

Pain

Depression

Autism

Cancer  

Alzheimer's

Parkinson's

Arthritis
HOW LOW-DOSE NALTREXONE WORKS 
I find the science behind Low Dose Naltrexone fascinating. 
Low Dose Naltrexone is usually taken at bedtime. 
During the night, Low-Dose Naltrexone blocks your opioid receptors, as well as the reception of endorphins, for a few hours in the middle of the night.
When your receptors are blocked your body produces more endorphins. (The feel-good chemical)
Low Dose Naltrexone works with your body's immune system through its interactions with your body's endorphins.
It is believed the body's immune system improves because the LDN triggers your body's production of met-enkephalin and endorphins (your natural opioids), hence improving your immune function.
LOW DOSE NALTREXONE SIDE EFFECTS
I am thrilled the inexpensive Low Dose Naltrexone medication has virtually few side effects.
The two major side effects listed with Low Dose Naltrexone are insomnia and vivid dreams. 
You can read more about Low Dose Naltrexone on these health reference web pages:
THE BEST LOW DOSE NALTREXONE 
When you purchase Low Dose Naltrexone you want to be sure the LDN is not altered.
Non-altered Low Dose Naltrexone allows you to quickly receive the full dose.
Part of Low Dose Naltrexone will contain a neutral filler.
There is some science that suggests a calcium carbonate filler may interfere with your body's absorption of Low Dose Naltrexone. 
On a personal note, my Low Dose Naltrexone works best if it does not contain any dairy fillers.
Also, a slow-releasing or timed- released Low-Dose Naltrexone may not provide you with the full therapeutic benefits.
Resources:
https://articles.mercola.com/sites/articles/archive/2011/09/19/one-of-the-rare-drugs-that-actually-helps-your-body-to-heal-itself.aspx
http://www.lowdosenaltrexone.org/
https://www.ncbi.nlm.nih.gov/pmc/articles/PMC3962576/
---
You can find other shortcuts to living with a chronic illness at HypoGal Blog.
Please, LIKE, HypoGal on Facebook.
You can read about HypoGal health journey with a chronic illness on the following link, HypoGal, My Story.  
---
If you would like HypoGal updates then please place your email address at the end of this page.
HypoGal does not like spam and respects your privacy.