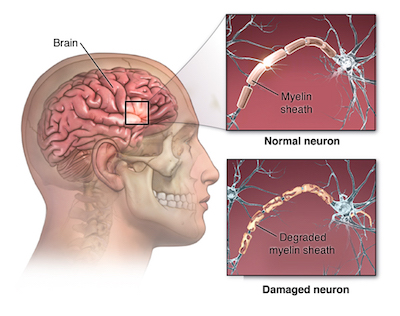 Chronic Inflammatory Demyelinating Polyneuropathy Information and Resources
WHAT IS CHRONIC INFLAMMATORY DEMYELINATING POLYNEUROPATHY? 
THE NATIONAL INSTITUTES OF HEALTH
The National Institutes of Health have written the following about CIPD:
Chronic inflammatory demyelinating polyneuropathy (CIDP) is a neurological disorder characterized by progressive weakness and impaired sensory function in the legs and arms.
The disorder, which is sometimes called chronic relapsing polyneuropathy, is caused by damage to the myelin sheath (the fatty covering that wraps around and protects nerve fibers) of the peripheral nerves.
Although it can occur at any age and in both genders, CIDP is more common in young adults and in men more so than women.
It often presents with symptoms that include tingling or numbness (beginning in the toes and fingers), weakness of the arms and legs, loss of deep tendon reflexes (areflexia), fatigue, and abnormal sensations.
CIDP is closely related to Guillain-Barre syndrome and it is considered the chronic counterpart of that acute disease.
GBS CIDP INTERNATIONAL FOUNDATION 
The GBS CIDP International Foundation share the following information about, What is Chronic Inflammatory Demyelinating Polyneuropathy:
Chronic Inflammatory Demyelinating Polyneuropathy (CIDP) is a rare disorder of the peripheral nerves characterized by gradually increasing sensory loss and weakness associated with loss of reflexes.
CIDP is caused by damage to the covering of the nerves, called myelin. It can start at any age and is more frequent in men than women.
The number of new cases per year of CIDP is about 1-2 per 100,000 people, but as the disease can be present in a person for years prior to diagnosis, the prevalence reflecting the accumulation of cases over time may be as high as 9 per 100,000 in some areas.
CIDP is not self-limiting or spontaneous. Left untreated, 30% of CIDP patients will progress to wheelchair dependence. Early recognition and proper treatment can avoid a significant amount of disability.
HOW IS CIDP DIAGNOSED?
These following tests, combined with a thorough health history and neurological exam, will help guide the physician to a CIPD diagnosis:
An Electrophysiologic pattern of multifocal demyelination identified through an EMG/nerve conduction study
Spinal Tap of elevated CSF (cerebral spinal fluid) protein
Nerve biopsy
WHAT ARE THE SYMPTOMS OF CIDP?
Regardless of the type of CIDP you may have, symptoms are usually the same.
The symptoms of CIDP can include:
Tingling in your arms and legs
Gradual weakening of your arms and legs
Loss of reflexes
Loss of balance and your ability to walk
Loss of feeling in your arms and legs. The loss of feeling frequent begins with your inability to feel a pin prick
CHRONIC INFLAMMATORY DEMYELINATING POLYNEUROPATHY CIDP TREATMENT
IVIg may be a first-line therapy as a CIDP treatment. Intravenous immunoglobulin (IVIg) therapy and Plasmapheresis (plasma exchange) are effective in CIDP treatment.
Other CIDP treatment includes corticosteroids such as prednisone. Corticosteroids may be prescribed alone as a treatment or in combination with immunosuppressant drugs.
The body's muscle strength, function, and mobility may improve with Physiotherapy.
My CIPD EXPERIENCE
My body absorbs every chronic inflammatory disease known to humanity; CIPD is now in my landscape. Before children, I use to ski.
When I tried to ski four years ago, I collapsed. My sudden fall to the snow-packed mountain occurs because I cannot lift my left foot.
I also do not want another health issue; I hoped it would go away. It did not.
Years pass; my left leg often limps, especially when I am stressed. I should also note that shooting pain frequently radiates through both of my legs.
NEUROLOGIST DIAGNOSIS; MY CIPD DIAGNOSIS
After years of battling Cervical Dystonia, my health condition brings me to a Neurologist.
I want to note that this is not my first visit with this Neurologist. My neurological issues began with this expert medical about seven years ago.
Unfortunately, I was sick of being sick; it felt like I was always putting out a more massive health fire and I did not return for my follow up appointment.
With humility, I return to this Neurologist for an appointment. I need to know why my legs are sore and why they have begun to lose their feeling.
The Neurologist performs numerous neurological tests; a painful nerve biopsy provides an answer.
MY CIPD RARE DISEASE WORLD
When you include CIPD into my medical background, the situation screams, yes, inflammation!
My body is full of inflammation, and I know stress is a trigger.