How Low Dose Naltrexone Works 
How Low Dose Naltrexone Works:
To start to comprehend how Low Dose Naltrexone (LDN) works it is necessary for you to know about Endorphins. The body's natural Endorphins create feel good opioids.
Most cells in the body produce Endorphins. It is theorized that low levels of natural Endorphins and immune system disorders are associated.
When you take low dose naltrexone (usually, 3.5-5 mg) in the evening the LDN blocks OGF receptors for a few hours. The blockage of the OGF receptor tricks the body into the release of more Endocrines. The result of elevated Endorphins is referred to as the, "rebound effect."
Usually, the rebound effect lasts for a twenty-four hour period. However, the effects of LDN vary individually.
An individual can only utilize the "rebound effect" with the daily consumption of low dose naltrexone. The usage of a standard naltrexone dosage 50mg or the use of timed-release Naltrexone will result in the complete blockade of theOGF receptors. If the Opioid Growth Receptors become completely blocked, the "rebound effect" will not occur.
The, "Rebound Effect" from Low Dose Naltrexone may be able to help people with autoimmune diseases.
The  book Honest Medicine: Effective, Time-Tested, Inexpensive Treatments for Life-Threatening Diseases by Julia E. Schopick may help you to better understand how Low Dose Naltrexone Works. 
Resources:
http://www.ldnscience.org/low-dose-naltrexone/how-does-ldn-work 
 https://en.wikipedia.org/wiki/Low-dose_naltrexone
You can learn more about Low Dose Naltrexone on the HypoGal Website
On a personal note I have used Low Dose Naltrexone for approximately a year. Low Dose Naltrexone has not been my, "Magic Pill" but I definitely notice an increase in my energy level. Low Dose Naltrexone has given me a new base line. 
If you are interested to find out if Low Dose Naltrexone may help you then I would strongly recommend that you review the LDN Trust Organization website. 
I have read that it definitely does matter where you purchase your Low Dose Naltrexone.
Click on the following link to read about Autoimmune Disease Resources, American Autoimmune Related Disease and The National Institute of Health.
HypoGal Blog can help you find Shortcuts to Living With A Chronic Illness.
You may also find HypoGal's How To References and Resources Index useful. 
You can receive HypoGal's updates and a 11 page Government Resource Guide when you enter you email address at the bottom of this page ↓
Summary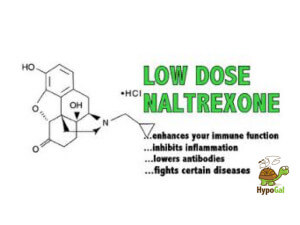 Article Name
How Low Dose Naltrexone Works
Description
HypoGal shares how Low Dose Naltrexone works in your body to improve your immune system. Low Dose Naltrexone is an inexpensive, off label medication that has shown promise to help with ms, fibromyalgia, cancer and numerous other diseases.
HypoGal