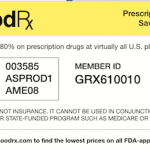 How Does GoodRx Work?
GoodRx is a discount prescription medication program that allows you to find the lowest price on your medication.
Step 1 in How Does GoodRx Work: You go to the GoodRx website. If you do not desire to click on the previous weblink the GoodRx website is www.GoodRx.com.
You do not have to set up a GoodRx account to use the GoodRx coupons. However, I find it is easier if you set up a GoodRx account and confirm your zip code.
Step 2: You type in your prescription medication into the medication search bar.
A list of your prescription medication costs at available pharmacies will be shown to you.
Step 3: If you choose the GoodRx prescription coupon you can print out the coupon or send the coupon to your smartphone.
Read More