Disability Insurance Costs

 
What You Need To Know About Disability Insurance Definition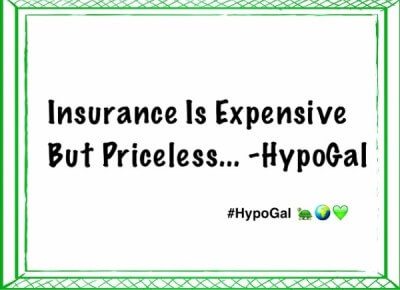 S.S.D.I. and  Private Disability Insurance Comparison 
Disability Insurance is a type of insurance that insures the beneficiary's work income in the event of long-term illness, accident or injury that prevents them from working. Disability Insurance is a reference also known as DI, disability income, disability insurance, income or income protection.
According to The Social Security Administration in 2014, it states that 1 out of 4 workers over the age of 20 years will become disabled for some period before they retire.
Surprising, only a small percentage of disabilities are the result of an accident. Illnesses cause a majority of disabilities. Social Security Disability Insurance only offers benefits that fit into their requirements.
Social Security defines disability different from other private programs. Social Security pays only for total disability. No benefits are payable for partial disability or short-term disability. "Disability" under Social Security is based on your inability to work.
Before you can apply for Social Security Disability Insurance you must confirm:
You cannot do work that you did before;

We decide that you cannot adjust to other work because of your medical condition(s); and

Your disability has lasted or is expected to last for at least one year or to result in death.
Social Security program rules assume that families have access to other resources to provide support during periods of short-term disabilities, including workers' compensation, insurance, savings, and investments.
Private Disability Insurance
Private Disability Insurance is a financial tool that functions to a replacement income if you were to become disabled.
Disability Insurance usually provides you with a monthly payment but does not cover specific expenses such as medical costs.
Disability Insurance Payments
Disability Insurance Payments continue for the duration of your disability or until the stated time limit on the policy has expired.
There are several ways to purchase Disability Insurance; you buy Disability Insurance through a Group Disability Insurance Plan at your work or in the public sector.
Private Disability Insurance will allow you to have more financial resources than relying on Social Security Disability Insurance. You may need Disability Insurance even if you do not work.
If you run your household there is a price to replace your house CEO expertise skills. You most likely do not need Disability Insurance if you have a pot of gold.
I write that as a cliche because the cost of being disabled is costly. There seems to be endless costs with any chronic illness or disability.
I often write, "Disability Insurance Is Expensive But Priceless!" - So True!
Government Resources:
https://www.ssa.gov/news/press/basicfact.html
---
Click on My Story to read HypoGal's experience with a disability.
You can also learn to navigate your financial future with HypoGal and Disability Benefits:
---
You can find health references and shortcuts to living with a chronic illness at HypoGal Blog.
Please, LIKE, HypoGal on Facebook.