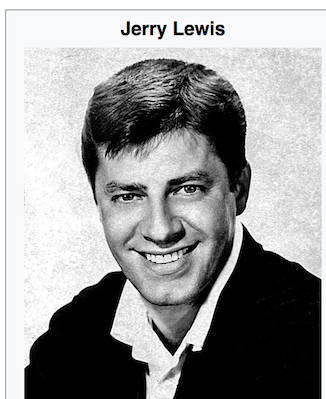 Jerry Lewis Muscular Dystrophy Overview
RIP Jerry Lewis, An Overview Of Jerry Lewis's Life:
Life Stories/ Jerry Lewis 
Jerry Lewis RIP
Yesterday, I was sad to learn that Jerry Lewis passed away.
I have fond memories of Jerry Lewis.  
Jerry Lewis Muscular Dystrophy Overview
As a child, I recall being able to stay up late at my grandmother's to watch The Jerry Lewis MDA Labor Day twenty-one hour television marathon.
The show was founded and hosted by actor and comedian Jerry Lewis.
Jerry Lewis hosted the broadcast The Jerry Lewis MDA Labor Day television marathon from its 1966 inception until 2010.
I would watch in awe as Mr. Lewis would entertain millions of television viewers with his dance steps, interesting guests and comedic lines.
Jerry Lewis's dedication to Muscular Dystrophy created awareness about the disease and raised millions to help further Muscular Dystrophy research.
As Jerry Lewis spearheaded Muscular Dystrophy awareness, he had his health issues.
Jerry Lewis Health Conditions
He suffered his first heart attack in his forties, heart surgeries, pneumonia, prostate cancer, diabetes and viral meningitis followed.
It is rumored that Jerry Lewis health challenges caused him to take Prednisone.
A significant amount of Prednisone may have contributed to large weight gain later in his life.
Even with health hurdles, Jerry Lewis lived 91 years.
The legacy of the remarkable man, Jerry Lewis will live on forever.
Jerry Lewis RIP
Jerry Lewis Resource Information:
https://en.wikipedia.org/wiki/Jerry_Lewis
https://en.wikipedia.org/wiki/The_Jerry_Lewis_MDA_Labor_Day_Telethon
---
You can find information about chronic illnesses and helpful resources on the HypoGal Blog 
You may find these HypoGal web links stories and health resources interesting: 
Play It Forward So Other Do Not Have To Rewind.
Please, Like, HypoGal on Facebook.