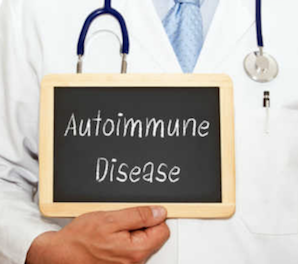 AUTOIMMUNE DISEASE RESOURCE GUIDE
Autoimmune Disease Resource Guide may help the estimated 50 million Americans afflicted with autoimmune diseases.
The breakdown of 50 million Americans that have autoimmune disease is equivalent to 1 out of 5 Americans having autoimmune disease.
That means one person out of every five people you know most likely has an autoimmune disease.
AUTOIMMUNE DISEASE AND WOMEN
Women are more likely than men to have an autoimmune disease.
30 million Americans affected with autoimmune diseases are female.
WHAT HAPPENS WHEN AUTOIMMUNE DISEASE OCCURS:
Autoimmune disease occurs when the body misdirects the immune system to attack itself.
I have the autoimmune disease, Relapsing Polychondritis.
WHAT IS RELAPSING POLYCHONDRITIS?
Relapsing Polychondritis is a multisystemic condition characterized by inflammation and deterioration of cartilage.
The often painful disease, Relapsing Polychondritis can cause joint deformity and be life-threatening if the respiratory tract, heart valves or blood vessels are affected. 1
THERE ARE OVER 100 AUTOIMMUNE DISEASES
Listed below you are some of the more well known autoimmune diseases:
| | | |
| --- | --- | --- |
|  LUPUS  |  PSORIASIS |  MYOSITIS  |
|  TYPE 1   DIABETES  |  AUTOIMMUNE   HEPATITIS  |  ANTIPHOSPHOLIPID     SYNDROME (APS) |
|  SCLERODERMA |  RHEUMATOID   ARTHRITIS |  SJOGREN'S SYNDROME |
|  CELIAC |  GRAVES'S   DISEASE |  POLYMYOSITIS  |
|  MULTIPLE   SCLEROSIS |  MYASTHENIA   GRAVIS  |  UVEITIS  |
|  RAYNAUD'S   PHENOMENON  |  DEMYELINATING   NEUROPATHIES |  CROHN'S DISEASE |
|  INFLAMMATORY   BOWEL DISEASE |  DIABETES TYPE   1  |  GUILLAIN-BARRE     SYNDROME |
The following is information about Autoimmune Disease Resources from the American Autoimmune Related Diseases Association and National Institutes of Health.
AMERICAN AUTOIMMUNE RELATED DISEASES ASSOCIATION (AARD)
THE AARD WEBSITE OFFERS HEALTH REFERENCES FOR:
100's of autoimmune diseases
Reach Report on 100's of autoimmune diseases
Autoimmune Disease Advocacy Alerts
Autoimmune Disease Coping Tools
Women and Autoimmune Disease
The American Autoimmune Related Diseases Association offers a terrific educational, supportive website.
The following web link will take you to The American Autoimmune Related Diseases website.
THE NATIONAL INSTITUTES OF HEALTH (NIH)
The government agency the National Institutes of Health offers a well-organized, easy to navigate website with extensive information about autoimmune diseases.
The National Institutes of Health website for autoimmune disease information includes:
What is Autoimmune Disease?
A list of Autoimmune Diseases
Treatments for Autoimmune Diseases
Triggers and Causes of Autoimmune Diseases
Treatment of Autoimmune Diseases
Treatment Side Effects of Autoimmune Diseases
Funded Autoimmune Government Trials and Studies
Scientific Resources
Click on the following web link to be taken to The National Institute of Health Autoimmune Disease web page.
Resources:
https://hypogal.com/relapsing-polychondritis/
http://www.niaid.nih.gov/topics/autoimmune/Pages/default.aspx
https://en.wikipedia.org/wiki/Autoimmune_disease
Please, LIKE, HypoGal on Facebook.
You can read my health journey with a chronic autoimmune disease at HypoGal, My Story.
You can find additional health references about living with a chronic illness on the HypoGalBlog.