Sheehan's Syndrome Support Group Information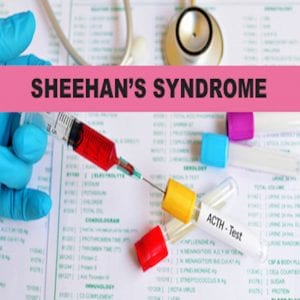 Sheehan Syndrome Resources
Support Organizations for Sheehan's Syndrome and Other Pituitary Gland Disorders
Genetic and Rare Diseases (GARD) Information Center
PO Box 8126
Gaithersburg, MD 20898-8126
Phone: (301) 251-4925
Toll-free: (888) 205-2311
Website: http://rarediseases.info.nih.gov/GARD/
Pituitary Network Association
P.O. Box 1958
Thousand Oaks CA, 91358
Phone: (805) 499-9973
Email: info@pituitary.org
Website: http://pituitary.org
Hormone Health Network Endocrine Society
2055 L Street NW
Suite 600
Washington, DC 20036
Phone: (202) 971-3636
Toll-free: (888) 363-6274
Email: hormone@endocrine.org
Website: http://www.hormone.org/
National Adrenal Diseases Foundation (NADF)
505 Northern Boulevard
Great Neck, NY 11021 USA
Telephone: 516.487.4992
Email:nadfsupport@nadf.us
Website:http://www.nadf.us/support-groups/
NIH/National Institute of Diabetes, Digestive & Kidney Diseases
Office of Communications & Public Liaison
Bldg 31, Rm 9A06
Bethesda, MD 20892-2560
Phone: (301) 496-3583
Email: NDDIC@info.niddk.nih.gov
Website: http://www2.niddk.nih.gov/
Pituitary Foundation
PO Box 1944
Bristol, BS99 2UB United Kingdom
Phone: (845) 450-0376
Toll-free: (845) 450-0375
Email: helpline@pituitary.org.uk
Website: http://www.pituitary.org.uk
Cushing Support Groups
Growth Hormone Resources
Additional Resources For Sheehan's Syndrome
Hypopituitary Information on replacement therapy is readily available from:
The Pituitary Society
http://www.pituitarysociety.org/public
The Pituitary Foundation
http://www.pituitary.org.uk
The Hormone Foundation
http://www.hormone.org
Click on the following web link to read about my medical journey with Sheehan's Syndrome.
You can find shortcuts to living with a chronic illness at HypoGalBlog. 
Please, LIKE, HypoGal on Facebook.