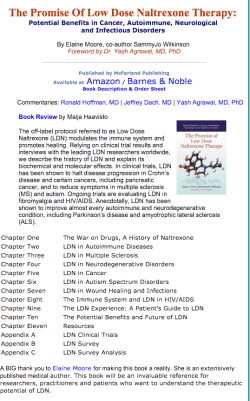 LOW DOSE NALTREXONE BOOKS
LOW DOSE NALTREXONE
Low-dose naltrexone (LDN) has been demonstrated to reduce symptom severity in conditions such as fibromyalgia, Crohn's disease, multiple sclerosis, and complex regional pain syndrome.
We review the evidence that LDN may operate as a novel anti-inflammatory agent in the central nervous system, via action on microglial cells.
These effects may be unique to low dosage of naltrexone and appear to be entirely independent from naltrexone's better-known activity on opioid receptors.
LOW DOSE NALTREXONE BOOKS
If you enjoy reading on your Kindle or Kindle application then Amazon's unlimited reading may be an incredible program for you.
You can find out information about Amazon's unlimited reading and receive a free 30 trial from the link below:
Join Amazon Kindle Unlimited 30-Day Free Trial
Audible offers a fabulous deal to earn your membership.
If you try the Audiobooks membership you will receive two free audiobooks.
I love listening to audible books.
Try Audible and Get Two Free Audiobooks
If you are a student then you can benefit from Amazon's student discount.
Prime is just $5.99/month for qualifying customers in select U.S. government assistance programs such as holders of the EBT card.
Enjoy the benefits of Prime at almost 50% off the regular monthly price.
I hope you find these Low Dose Naltrexone Books helpful.
You may find other books on HypoGal's Booklist useful;
Books About The:
Thyroid Gland
Adrenal Glands
Additional Resources
Health Stories
HypoGal's Books
If would like to recommend a health reference book about the Adrenal Glands please email me at Lisa@HypoGal.com.
You may like other of HypoGal's Favorite Finds.
HypoGal's Favorite Finds include:
Best Website List of Deals, Bargains, and Terrific Prices
Fibromyalgia Pain Relief Products
Movies, Television, and Steaming
Products To Make Your Life Easier
Vitamins and Supplements
Please, Like, HypoGal on Facebook.
Click on the HypoGal Blog to find additional health reference about life with a chronic illness.
You can receive HypoGal's updates by placing your email at the bottom of this page. It's Free 🙂