PHOTO OF THE PANCREAS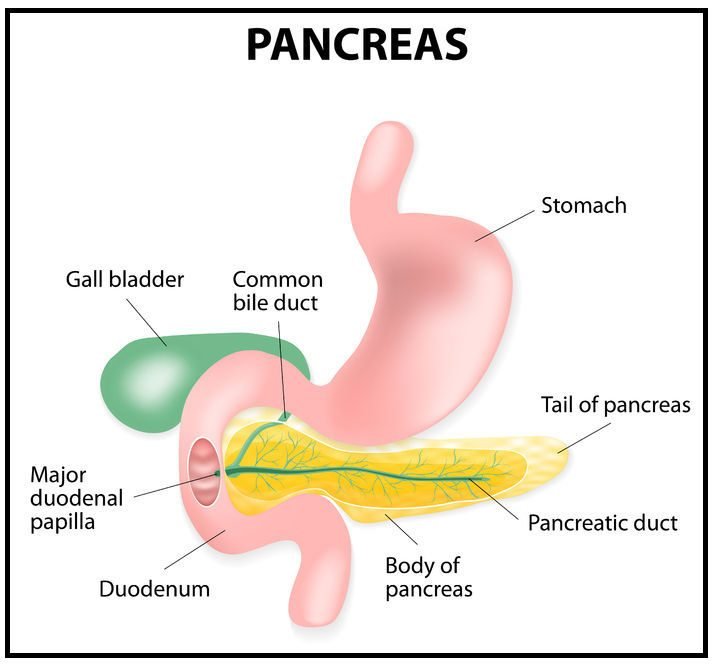 WHERE IS THE PANCREAS LOCATED?
The pancreas is about six inches long J shape organ and is located deep in the abdomen.
Part of the pancreas is sandwiched between the stomach and the spine region. 
The other portion of the pancreas is in the small intestine (near the curve of the Duodenum). 
WHAT IS THE PANCREAS FUNCTION?
The pancreas consist of two glands that are intimately mixed together into one organ.
The bulk of the pancreas is composed of "exocrine" cells that produce enzymes to help with the digestion of food. 
The second functional component of the pancreas is the "endocrine" pancreas.
The endocrine pancreas is composed of small islands of cells, called the islets of Langerhans.
Endocrine cells do not release their secretions into the pancreatic ducts, instead they release hormones, such as insulin and glucagon, into the body's blood stream.
These endocrine hormones in turn regulate your body's sugar level.
ADDITIONAL MEDICAL PHOTOS 
You may also find this List Of Medical Specialist helpful.
You can click on, MY STORY, to read HypoGal's journey with a chronic illness.
The HypoGal Blog may help you find additional shortcuts to living with a chronic illness
Resources:
Please, LIKE, HypoGal on Facebook.