WHERE YOU CAN FIND FREE HELPFUL MEDICAL RESOURCES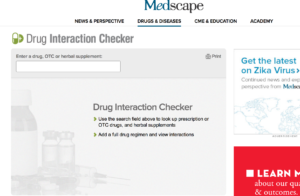 Drug Watch: Helps people injured by dangerous drugs and medical devices. You are able to search for drugs and devices. 
Food Matters: Your daily dose of health and wellness. Topics include health news, recipes, films, and resources. 
Medline Plus Medical Dictionary: Type the medical word or medical term that you would like to find. If you are not sure of the spelling then type the first few letters, followed by an asterisk (*)
Medscape: Drug interaction checker. You are able to find out if your medication has any interactions. The Medscape website also provides categories for news and perspective, drugs and diseases, CME and education, and academy. 
National Center for Complementary and Integrative Health: Provides brief fact sheets that provide basic information about specific herbs or botanicals—common names, what the science says, potential side effects and cautions, and resources for more information.
National Institute of Health Office of Dietary Supplements: Strengthening your knowledge and understanding of dietary supplements. You can search for vitamin and mineral supplement fact sheets. 
Rx List: Offers information about drugs, pill identifier, supplements, symptom checker, diseases, dictionary, New FDA drug approval, recent FDA drug updates, top 200 names of drugs searched in The United States, the top 100 monthly prescriptions in The United States. 
---
Resources:
http://reference.medscape.com/drug-interactionchecker
 https://ods.od.nih.gov/factsheets/list-all/
https://nccih.nih.gov/health/herbsataglance.htm
 http://www.rxlist.com/script/main/hp.asp
If you would like to share additional free medical resources with HypoGal readers then please email me at Lisa@HypoGal.com.
You may also find the following information helpful:
---
You can find additional shortcuts to living with a chronic illness on the HypoGal Blog. 
Please, Like, HypoGal on Facebook.
You can receive HypoGal's updates when you enter your email address at the bottom of this page.
The updates are FREE! 🙂