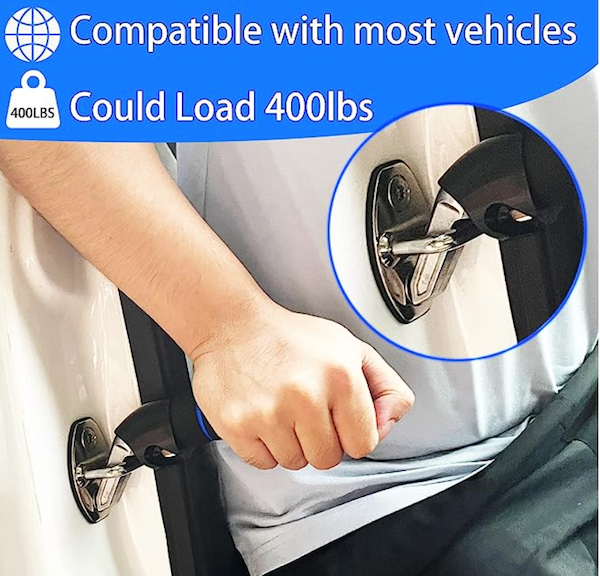 LEARN WHY THIS IS THE BEST INEXPENSIVE CAR ASSIST HANDLE
I Love This Inexpensive Car Assist Product- The Product Works! Yay!
I have a car assist handles and brought a pair for my mom.
You can leave assist handle in your car and you can take the other assist handle with you. It is great to have when you travel with somebody else or rent a vehicle.
This Kounatsuri Car Aid Handle fits perfectly into my car latch and is easy to use.
The Car Aid Handle is a fabulous product for the elderly, children and people who struggle with debilitating heatlh conditions.
Here is information about the car assist product and where to purchase one:
About this 2-pack Car Assistance Handle:
【The Handle Can Assist Up To 400lbs】Car door handle is made of high-quality forged steel, Using upgraded composite materials, anti-rust, and anti-corrosion. Integral molding process. could carry 400lbs, ensuring safer for getting in and out of the car.
【Comfortable handle】Car handle adopts a sponge sleeve handle design, making the handle comfortable. The ergonomic car handle lets you get on and off without worrying about falling. It perfectly fits the contours of the palm and fingers, allowing you to hold it naturally and comfortably.
 [Multifunctional design】The car assist handle can add a stability factor for people when they get in and out of the car; in time of an accident, they can cut off the seat belt or break the window to reach safety. The Kounatasuri Car Assist Handle is Suitable for most cars.
【Terrific Portable Size】These car assistance handles are easy to use and carry. The small size of the Kounstsuri Car Assistance Handles makes them easy to store, especially a glove box. Every car owner deserves to have a pair of Kounatsuri Car Assistance.
【Widely Used in Life】 The Kounatsuri Car Assistance handles fit into all U-shaped latch cars. These Car assists can assist the elderly, children, pregnant women, people with injuries, or anyone who needs assistance getting out of a vehicle. 
The Kounatsuri car assistance handles make a fabulous gift for your family or friends.
The Kounatsuri is a unique health product that can assist people daily. 
This health product is inexpensive and should be required in every vehicle.
I posted the Amazon weblink for a one and two pack of Kounatsuri car assist handle.
For my needs, I purchased the two pack. The two pack of car assist handles has a better price point.
If you are on a tight budget, most of us are, then you can consider splitting a two pack of car assist handles with other person.
I hope this post is helpful. I appreciate all comments and insight. You can reach me at Lisa@HypoGal.com