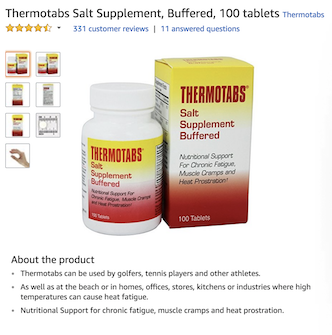 THERMOTABS HELP ME BEAT THE HEAT
THERMOTABS HELP ME BEAT THE HEAT 
I Love Thermotabs!
Thermotabs help me beat the heat.
My body does not produce the enough sodium during warm weather or physical exertion.
The lack of sodium being released into my body is due adrenal insufficiency via the pituitary gland. The lack of sodium released by my adrenal glands causes my body to I need more salt/ sodium to during exercise, and warm days.
Sometimes during warm weather I forget to add Thermotabs to my daily supplements. When this happens my body screams: pickles, salami, sea salt potato chips any type of salty food. What my body really needs is Thermotabs.
THERMOTAB BENEFITS
Thermotabs are supplemental tablets that are designed to help minimize chronic fatigue, muscle cramps and heat prostration due to excessive perspiration. 
Thermotabs can be used by golfers, tennis players and other athletes as well as at the beach or in homes, offices, stores, kitchens or industries where high temperatures can cause heat fatigue.
If you have questions, concerns or comments about the Thermotabs product you can Call 1-800-331-0221 or visit Numark Brands.
Please note the Thermotabs product has not been evaluated by the Food and Drug Administration.
The Thermotab product is not intended to diagnose, treat, cure or prevent any disease.
The suggested use for the Thermotab product is to take: One tablet with a full glass of water, five to ten times daily, depending on temperatures and working conditions.
THERMOTAB STORAGE
The Thermotabs should be stored at room temperature.
You should not expose the Thermotab product to excessive heat or moisture.
THERMOTAB INGREDIENTS
 
The Thermotab Salt Buffer Tablet Contains:
Contains 425 mg Sodium Chloride
Cellulose
Dextrose
Calcium Carbonate
Sodium Starch Glycolate
Stearic Acid.
THERMOTAB BUFFERED SALT TABLET ALERT
The Thermatab product should not be taken if you have or are being treated for heart disease, high blood pressure or on a sodium related diet.
You should consult your physician before the use of this product.
Please remember to keep the Thermotabs out of the reach of children.
For Your Protection: Please do not use Thermotabs if the seal under cap is broken.
Thermotabs Help Me Beat The Heat: The Thermotab product works, the product is inexpensive and with the low price point.
I  keep Thermotab bottles in numerous places, eg. car, bathroom, and purse.  🙂
You can purchase Thermotabs from the link below: 3 Thermotabs Buffered Salt Supplement Tablets – 100 Tablets Each
Numark Brands has a full line of natural supplements to help with your well-body.
NUMARK BRANDS POPULAR PRODUCTS
Some of Numark Brands popular products are;
Click on any of these products to purchase.