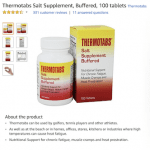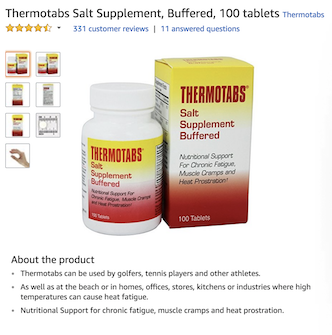 I LOVE THERMOTABS!
Thermotabs help me beat the heat.
My body does not produce the enough sodium during warm weather or physical exertion.
The lack of sodium being released into my body is due adrenal insufficiency via the pituitary gland. The lack of sodium released by my adrenal glands causes my body to I need more salt/ sodium to during exercise, and warm days.
Sometimes during warm weather I forget to add Thermotabs to my daily supplements. When this happens my body screams: pickles, salami, sea salt potato chips any type of salty food. What my body really needs is Thermotabs.
Thermotabs are supplemental tablets that are designed to help minimize chronic fatigue, muscle cramps and heat prostration due to excessive perspiration.
Read More