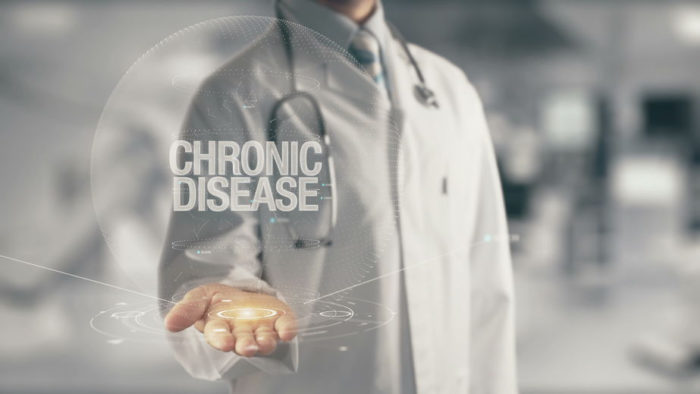 What Is A Chronic Illness?
WHAT IS A CHRONIC ILLNESS?
The definition of, What Is A Chronic Illness? varies from each national health resource. 
The Center for Natural Disease and Prevention (CDC)
The CDC writes that a chronic illness is defined broadly as conditions that last 1 year or more and require ongoing medical attention or limit activities of daily living or both.
Chronic illness such as heart disease, cancer, and diabetes are the leading causes of death and disability in the United States.
The nation spends about $3.5 trillion in annual health care costs and these costs are driven by chronic illness.
MEDLINEPLUS DEFINES A CHRONIC ILLNESS
A chronic illness is a long-term health condition that may not have a cure.
Examples of chronic illnesses are:
WEBMD DEFINES A CHRONIC ILLNESS
WebMD defines A chronic illness as a condition that lasts for a very long time and usually cannot be cured completely, although some illnesses can be controlled or managed through lifestyle (diet and exercise) and medications.
Examples of chronic illnesses include diabetes, heart disease, arthritis, kidney disease, HIV/AIDS, lupus, and multiple sclerosis.
CHRONIC ILLNESS SUPPORT GROUPS 
Living with chronic illness can make you feel very alone.
Being connected with people who share or support someone with your illness is a terrific way to deal with the mental challenges  a chronic illness may bring. 
HOW DO YOU FIND A CHRONIC ILLNESS SUPPORT GROUPS?
On a personal note, I feel support groups are essential in living with a chronic illness. 
I find my best support groups are online.
If you go to Facebook and type in your condition, numerous support groups will most likely pop up.
When I search for a Facebook group to join I always look to see how frequently people post.
I prefer a Facebook group with many comments, conversation and suggestions.
If you click on the following link it will take you to a list of National Health Organizations.
Most of these organization have support groups or can help you find a support group for your chronic illness.
LIVING WITH A CHRONIC ILLNESS
I find life with a chronic illness is a balancing act. I am always trying to push dark thoughts where they should be, away.
Somedays, I am depressed.
The pain that resonates throughout my body frequent sucks my energy. 
The Cleveland Clinic confirms depression is especially likely to occur when the illness causes pain, disability, or social isolation.
Depression in turn can intensify pain, fatigue, and the self-doubt that can lead the patient to avoid other people.
I always state that my depression is a side effect of my chronic illness and is not my chronic illness.
Yet, for some people depression is a chronic illness.
The National Institutes of Health remind us not to dismiss depression as a normal part of having a chronic illness.
Effective treatment for depression is available and can help even if you have another medical illness or condition. 
SHARE YOUR CHRONIC ILLNESS

People cannot read your mind; if your chronic illness prevents you from going on a walk, traveling, or holding down a job, it is ok to let people know.
A chronic illness does not feel sexy, fun, or inviting. I understand the lack of desire to shout out your chronic medical condition.
However, friends and family do not know what they do not know. They may assume your last-minute cancellation, constant fatigue, or lack of interaction result from their behavior.
Sharing your chronic illness with others may provide you with additional support and helpful tips from others.
I know that I need to let people know I have a chronic illness.

My chronic illness is invisible and can flare anytime. It is ironic that most days, I look fine. I am not.
I often compare my body to a fancy chocolate Easter bunny. The chocolate on the bunny looks yummy, but it not solid chocolate.
One bite into the bunny, and you find out it is hollow. The phase, It Is What It Is, is my motto.
WHY COVID 19 COMBINED WITH A CHRONIC HEALTH CONDITION MAY KILL Y0U
A Sept 2020, the CDC report concludes that an estimate 56.0% of US adults are at risk for needing hospitalization for COVID-19 because of underlying conditions, representing a 23% increase from the 45.4% earlier estimates, which excluded obesity.
WHAT THIS CDC COVID 19 2020 UPDATE MEANS TO ME
If you have an underlying health condition then you need to be extremely carefully. 
Please stay home if you can and wear a mask. 
Resources:
https://wwwnc.cdc.gov/eid/article/26/9/20-2117_article
https://medlineplus.gov/ency/patientinstructions/000602.htm
https://www.webmd.com/depression/qa/what-is-chronic-illness
https://researchguides.uic.edu/c.php?g=252323&p=1683294
https://www.nimh.nih.gov/health/publications/chronic-illness-mental-health/index.shtml
https://my.clevelandclinic.org/health/articles/9288-chronic-illness-and-depression
https://www.aaup.org/article/chronic-illness-and-academic-career#.X5O3QJNKiX0