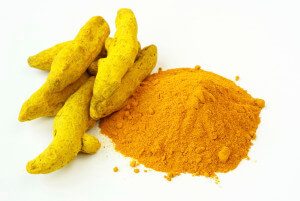 TURMERIC ABOUT
WHAT IS TURMERIC?
Turmeric is a bright golden yellow herb that contains dozens of antioxidants.

 
Turmeric is a spice that comes from the turmeric plant.
The Turmeric plant grows wild in the forests of South and Southeast Asia.
The spice Turmeric is one of the key ingredients in many Asian dishes.
Turmeric spice is the main spice in curry.
Chinese medicine uses Turmeric to treat autoimmune disorders, cancers, and liver diseases.
TURMERIC BENEFITS
Recently scientific studies confirm that there are numerous turmeric uses:
inflammatory
offers antioxidant
antiviral
thus, the Turmeric supplement may help protect against potential numerous malignant diseases, arthritis, allergies, Alzheimer's disease, and other chronic diseases.
Turmeric may be one of the best supplements to help slow down inflammation. 
The antioxidant Curcumin that produces the vibrant shiny yellowish color on Turmeric is believed to be a potent antioxidant that may dramatically reduce inflammation.
Research has indicated that Curcumin inhibits the growth of tumor cells in a variety of cancers, improves insulin resistance to a person that experience altered metabolic function.
Even through Curcumin may be the most important compound in Turmeric, the Turmeric spice contains two dozen other anti-inflammatory compounds.
TURMERIC TEA
Turmeric tea is one popular form of consuming turmeric. It has a unique but subtle flavor. The tea is also great way to reap the following health benefits of turmeric.
Turmeric can relieve pain and inflammation without the side effects that even over-the-counter medications like NSAIDs can cause, such as internal bleeding, ulcers, and reduced white blood cell count.
HOW TO MAKE TURMERIC TEA
To make turmeric tea, follow these steps:
Boil 3 to 4 cups of water on the stove
Add 2 teaspoons of turmeric and stir into the water
Let water simmer for about 5 to 10 minutes
Strain the tea into another container, preferably a glass container
For additional favor you may want to add milk, honey, or lemon
TURMERIC SUPPLEMENT RISK 
Turmeric is generally safe as long as you consume it in moderation.
Turmeric may thin your blood, you should stop drinking turmeric tea or turmeric supplements two weeks before surgery.
I like the NOW supplement products.
I use the NOW Curcumin supplment. This Curcumin supplement is devired from Turmeric.